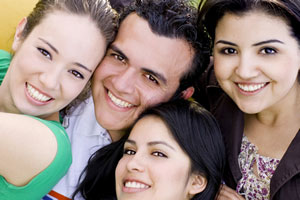 DR. GEORGE NGUYEN WAS VOTED FAVORITE DENTIST IN INLAND EMPIRE MAGAZINE, 2008.
Dedicated to Patient Health
At Temescal Dental we believe that having a healthy smile is a vital and important part of your overall health. Not only does good dental hygiene help keep your teeth healthy, it also helps improve personal confidence. Our Corona dentist and experienced staff want to ensure that you reach your goals of a stunning smile. As a result, Dr. Nguyen provides a variety of dental services in a safe and welcoming environment for you and your family. Come discover what we have to offer!
Your Family Dentist in Corona
As a children and family dentist, Dr. George Nguyen welcomes a diverse mix of patients. Young children who are apprehensive about dental visits will feel reassured by Dr. Nguyen's gentle approach while older patients will get the professional guidance they need. In fact, Dr. Nguyen can help patients gather information about various restorative options when seeking to revitalize their smiles and restore dental health.
From general dentistry to fillings to cosmetic dentistry, we promise to listen and act on your dental needs and help you make the best decisions for you and your loved ones.
Make an Appointment Today
Serving patients in Corona, Norco, and Riverside, Dr. Nguyen and our team goes above and beyond to make sure you leave our office with a reason to smile. Call Temescal Dental to schedule your first appointment.